BANDHAVGARH TOUR PACKAGES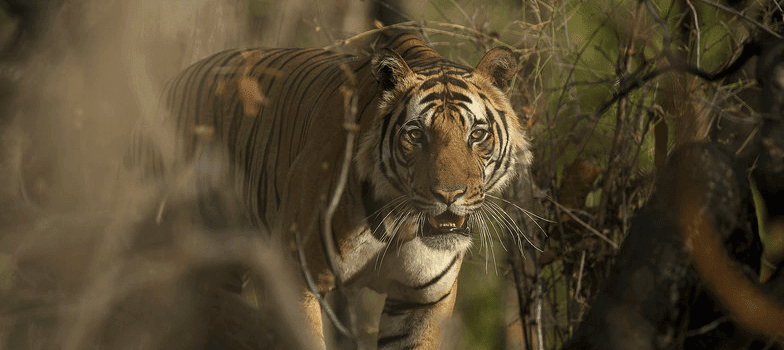 The world-famous national park of India, Bandhavgarh is located at Umaria District of the state of Madhya Pradesh. Bandhavgarh spread at the total area of 105 sq. km. and it was officially declared as national park in the year 1968. The most popular larger range of hills is the source of the park's official name. Bandhavgarh means "Brother's Fort" in Sanskrit. The area of Bandhavgarh is given by Lord Rama to his brother Lakshmana to keep an eye on Lanka, according to the ancient stories.
There is nothing more exciting and unforgettable than a memorable Bandhavgarh trip where you can explore the lush greens of forested areas that are genuinely the natural abode of varied flora and fauna. It is the land of majestic creatures spotted with jungle safaris, such as the royal Bengal tigers.
Bandhavgarh Tour Packages
Spread over Vindhya mountain ranges, Bandhavgarh National Park has covered over 400 sq. km of the buffer zone and 105 sq. km of a core area with varied topography of undulating forest, sharp ridges, and open meadows. It is one of the national parks with the highest density of tigers in India. Bandhavgarh was once a hunting ground where Rewa's White Tigers were first discovered by the Maharaja of Rewa. Today, it is a sanctuary for the tigers and other wildlife species.
Bandhavgarh National Park is renowned for its highest density of tigers in India. It was once spread over 105.4 sq. km. Now, it has been extended to over 437 sq. km. More than half of the national park is spread over fine Sal trees, and mixed forests are found in higher reaches. It is known for grasslands and bamboo stretches extending towards the north.
Bandhavgarh Jungle Safari Timings
Travellers can enjoy jeep safari in three different zones in Bandhavgarh National Park (which we will discuss later). There are limited numbers of vehicles allowed to enter the park in each shift. Open safari jeeps are available for group tours accompanied by a guide. The safari timing varies as per the season. Since the duration of daylight is shorter in winter, morning safari starts late and evening safari ends earlier. The national park opens only from October 16 to June 30. Here are the safari timings –
Bandhavgarh Morning Safari –
October 15 to Feb 15 – 6:30 Hrs to 11:00 Hrs
Feb 16 to March 31 – 6:00 Hrs to 11:00 Hrs
April 1 to June 30 – 5:30 Hrs to 10:00 Hrs
Bandhavgarh Evening Safari –
October 15 to Feb 15 – 14:30 to 17:30 Hrs
Feb 16 to March 31 – 15:00 to 18:00 Hrs
April 1 to June 30 – 16:00 to 19:00 Hrs
Note – Evening safari is closed for visitors Every Wednesday. Both Evening and Morning safaris are closed during Indian festivals.
Here's what you need to provide for safari booking –
Full name of every passenger
Nationality
Age and Gender
ID proof like Driving License, Aadhar Card, Passport, Voter ID, or PAN card
Also carry the original ID proof to show at the time of entry.
Getting There
Spread over Vindhya Hills, Bandhavgarh National Park has over 105 sq. km of core region and 400 sq. km of buffer zone. There are three options to reach Bandhavgarh –
Road – Bandhavgarh National Park has direct road connectivity from Satna, Maihar, Jabalpur, Khajuraho and Umaria. You can quickly get here by bus or private taxi from these cities.
Train – Umaria and Katni are the closest railway stations to Bandhavgarh. Umaria is located only 45 minutes' drive (35 km) from here, while Katni is around 100 km from Bandhavgarh.
Air – Khajuraho and Jabalpur are the closest airports to reach Bandhavgarh. You can reach Khajuraho and Jabalpur from all major cities in India, and then you can book a cab or reach there by train or bus.
Best Time to Visit
Bandhavgarh National Park welcomes the tourists every year from October 15 to June 30. Winter is the peak season to visit Bandhavgarh National Park, and October to March are the busy months for the national park. Winter is also the best time if you don't want to bear summer's heat. But most of the vegetation is dried from March to May when tiger sighting is relatively easy.
Bandhavgarh Safari Zones
Tala – It is one of the most beautiful and oldest safari zones of Bandhavgarh, and also the most important zone for spotting tigers. You can also visit some of the tourist attractions here like Siddh Baba, Badi Gufa, Chakradhara, 3-Cave Point, and Sita Mandap.
Magadhi (Gate No. 2) – It is full of lush grasslands and dense jungles. It is located in the southeast of Tala zone. Tigers also enter this zone from Magadhi zone. So, the chances of tiger sightings are also high in this zone.
Khitauli (Gate No. 3) – It is located in the west of tiger reserve. Tala and Magadhi zones are located on the right side and Khitauli zone is located on the left side. It is also frequented by tourists for bird-watching.
Frequently Asked Questions
yashvant jowhari
2023-03-05
Service was excellent.
I recently traveled with MP Tour Packages and had a fantastic experience overall. The hotel was super comfortable, the food was delicious, and the places we visited were amazing. However, the cab service was not up to par, and I hope that they can improve this aspect of their service in the future. Nonetheless, I highly recommend MP Tour Packages for their excellent travel packages and wonderful destinations. Last but not the least, special thanks to @kshma 💕
DEPENDRA sinha
2023-02-14
Nice experience to stay at white tiger forest resort/lodge. Excellent ambience.Rooms are good with all facilities,food is good too. Very polite and humbled staff. Enjoyed a lot. Overall excellent experience and love to come again and again.
We had excellent service experience from your company,driver was good ,hotels and other bookings were very well done and above all treatment of Ms Prachi Singh was very very cooperative,she was available at 5.30 am also and at 11 pm also on phone for any type of assistance. Five stars to your company and Ms Prachi.
Best
Pallavi Kulkarni
2021-11-25
We recently did MP tour. It was memorable experience. Ms. Anshu Nayyar helped us to decide our iternery. She answered our all quarries and cleared our doubts time to time. All the resorts booked were really nice. She arranged a tempo traveller for local transportation there. She was always available on call for any difficulty. Thank you, Anshu Madam!
Jignesh Garala
2021-11-11
Very good planing and services with best budget.
Naveen Kumar Jha
2018-08-17
nice arrangment for stay at Kanha in Kingfisher resort and time managment for safari and other places was excilent.