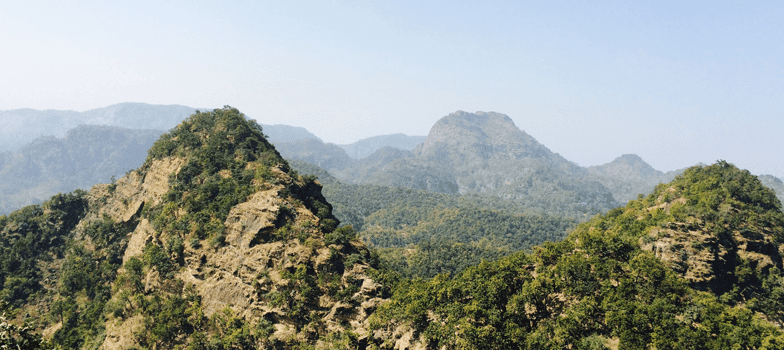 The City of Lakes, Bhopal is known for its manmade and natural lakes, split by a pair of lakes into two well contrasting cityscapes. Old Bhopal is located in the North which is a fascinating city of serpentine alleys, mosques, milling crowds, chowks, crowded markets, and striking havelis.
Pachmarhi is an amiable hill station in Madhya Pradesh discovered by a British Army officer, Capt. James Forsyth in 1857. This hill town is located around 1100m above sea level and is set amidst Satpura Mountain ranges. Experience the breathtaking beauty of the nature of this small town by booking a Pachmarhi tour with us. Visit ancient hilly caves and soak in the scenic views of the nearby town from the vantage points.
Book Pachmarhi Honeymoon Packages
Pachmarhi also houses plenty of forests, waterfalls, and monuments. This hill station has a lot of awe-inspiring tourist attractions. This tranquil hill town is well known for dense jungles, deep ravines, and raw hills. Explore this verdant jewel and witness the great combo of historical wonders and natural beauty. Legends had it that the caves here were built by none other than the Pandavas from Mahabharata epic, when they were spending their 13 years of exile. Currently, Pachmarhi houses a lot of indigenous tribes, such as Korku, Gond, and Bharia.
You can find a lot of touring options available in Pachmarhi. You can book a Pachmarhi honeymoon tour according to your plans and budget at MP Tour Packages. Explore the unbelievable 10,000 years old cave paintings. At Satpura National Park, you can spot several mammals like tigers, leopards, wild boars, etc., as it is dense in its flora and fauna.
Tourist Attractions in Pachmarhi
Explore a wide variety of tourist attractions in Pachmarhi by choosing the best Pachmarhi trip for you –
Pandav Gufa – Pachmarhi has five different rocky temples known as Pandav Gufa. Legends had it that the Pandavas built these caves as their shelter during their 13 years of exile period. On the other side, archeological evidence suggests that Buddhist monks built these caves around the 1st Century BC. No matter what you believe is right, you shouldn't miss this attraction if you visit Pachmarhi.
Rajendragiri Sunset Point – This captivating attraction is named after Dr. Rajendra Prasad, former President of India. He was known to visit this point frequently. This place has breathtaking and memorable views of the hill station. Watching the dramatic sunset and sunrise is just a treat to the eyes. No wonder why he loved this place so much.
Handi Khoh – It is around 300 ft. deep ravine in the serene forest region. Rugged mountains surround it, and this site is well regarded for its natural beauty.
Priyadarshini Point – Get lost in the mesmerizing views of Pachmarhi hills. This is the spot where Captain Forsyth discovered Pachmarhi. It is another captivating destination to spot the sunset of the Satpura range.
Jatashankar – This natural cave has great religious importance. It is basically a Hindu shrine in the north of Pachmarhi. It has large boulders above a deep ravine, naturally formed Shiva Lingams, and two spring ponds around the caves.
Gupt Mahadev Mandir – Get through the steep path of this 40 ft. long cave and meet "Bade Mahadev" sitting inside this beautiful temple. The enshrined Lord Hanuman himself greets you at the entrance.
There is no specific time to book Pachmarhi tours as you will always find pleasant and cozy weather all year round. You will discover a temperate and mild climate in every season. It's up to you as to whether you want to visit during peak months.
Summer – This season lasts from March till June when the temperature hovers around 22° to 35°C. The heat is not that uncomfortable to explore in daytime. It is all up to humidity level and winds. Be prepared for sudden rain showers and breezes even in summer months.
Monsoons – Rainy season starts in July till September when weather is quite cool. Pachmarhi receives around 785mm rainfall on average and temperature from 20° to 28°C. Even after monsoon, you will enjoy lush greenery as it is covered by mist and clouds.
Winter – It is the peak season because Pachmarhi receives beautiful ambience in early winter. The temperature drops to chilling 4 degrees, especially in December and January.
Frequently Asked Questions
Pachmarhi is a small hill town. If you are going for a short trip, 3 to 4 days are enough to visit almost all tourist attractions. But you can enjoy more activities in Satpura range if you extend your stay to around 5 days or more.
Pachmarhi is the only hill station in India where architectural brilliance meets the beauty of nature. Pachmarhi is a melting pot of bridle paths and Satpura ranges for nature lovers. There are three options to reach Pachmarhi –
Air – Jabalpur and Bhopal are the closest airports to Pachmarhi. Direct flights are available from Indore and Delhi. If you are visiting from Ahmedabad, Hyderabad, and Raipur, you can avail connecting flights to Jabalpur or Bhopal. Then you can reach Pachmarhi through cabs or buses.
Road – Pachmarhi is well connected through private and government buses from Jabalpur, Bhopal, Indore, Nagpur, and other cities, as well as tourist hotspots like Pench and Kanha national parks. Roads are excellent here as Pachmarhi is a cantonment town.
Rail – Pipariya is the closest railway station to Pachmarhi, which is directly connected to Jabalpur, Agra, Kolkata, Gwalior, Ahmedabad, Delhi, Nagpur, Varanasi, etc. If you are coming from other cities not mentioned here, you can get here via Itarsi.
yashvant jowhari
2023-03-05
Service was excellent.
I recently traveled with MP Tour Packages and had a fantastic experience overall. The hotel was super comfortable, the food was delicious, and the places we visited were amazing. However, the cab service was not up to par, and I hope that they can improve this aspect of their service in the future. Nonetheless, I highly recommend MP Tour Packages for their excellent travel packages and wonderful destinations. Last but not the least, special thanks to @kshma 💕
DEPENDRA sinha
2023-02-14
Nice experience to stay at white tiger forest resort/lodge. Excellent ambience.Rooms are good with all facilities,food is good too. Very polite and humbled staff. Enjoyed a lot. Overall excellent experience and love to come again and again.
We had excellent service experience from your company,driver was good ,hotels and other bookings were very well done and above all treatment of Ms Prachi Singh was very very cooperative,she was available at 5.30 am also and at 11 pm also on phone for any type of assistance. Five stars to your company and Ms Prachi.
Best
Pallavi Kulkarni
2021-11-25
We recently did MP tour. It was memorable experience. Ms. Anshu Nayyar helped us to decide our iternery. She answered our all quarries and cleared our doubts time to time. All the resorts booked were really nice. She arranged a tempo traveller for local transportation there. She was always available on call for any difficulty. Thank you, Anshu Madam!
Jignesh Garala
2021-11-11
Very good planing and services with best budget.
Naveen Kumar Jha
2018-08-17
nice arrangment for stay at Kanha in Kingfisher resort and time managment for safari and other places was excilent.